FPL Tips Gameweek 7
Welcome to FPL Tips Gameweek 7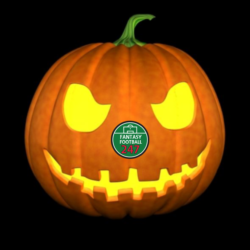 This season has been nothing but haunting so far and this last game-week was more trick than treat. There will likely be even more shocks and horrors as we approach Halloween weekend. Those Spurs fans that have started with Kane and Son are cackling. Bamford suddenly has a similar conversion rate to Salah and "no end product" Zaha has started hauling. It's been a bad start for me personally (starting with double Chelsea attack instead of double Spurs). So to all those that are struggling like me, FPL can change really quickly and the bad luck will turn soon enough. As for the tips: at least the penalties have eased up and I don't have to write about all the penalty takers for the different clubs.
Goalkeepers
Walts forgot to reapply his make up after the game @JonWalters19 #HappyHalloween pic.twitter.com/bwSjb8ysni

— Jack Butland (@JackButland_One) October 31, 2015
Goalkeepers are difficult to write about as it's rare many will be shopping in this area. With the lack of clean sheets I'd rule out the premium options. The simple answer is just get Martinez at 4.8 million. He has already saved a penalty and Villa have actually kept clean sheets this year unlike a lot of teams. He makes a lot of saves; the fourth highest number in the league. Martinez has the best minutes per baseline bps too of all Villa defenders, so he is the most likely of them all to record bonus points whenever Villa keep a clean sheet. Basically he's this seasons Pope.
It appears Chelsea have started to settle defensively so I'd recommend Mendy at 5 million. He has kept a clean sheet in all three of his games in all competitions since signing: in his opening game home to Palace, against Sevilla and at Old Trafford. Chelsea's problem has been Kepa and his inability to save anything. Since Lampard took charge, only Man City have conceded less shots than Chelsea.
I also like Guiata at 5 million with his upcoming fixtures. Palace set up to defend which means he makes a lot of saves and because Palace don't score a lot of goals he's usually good for bonus. Brighton have conceded the least amount of shots in the league so far which makes Ryan at 4.5 a good bet, if he starts saving the few shots he's facing.
Defenders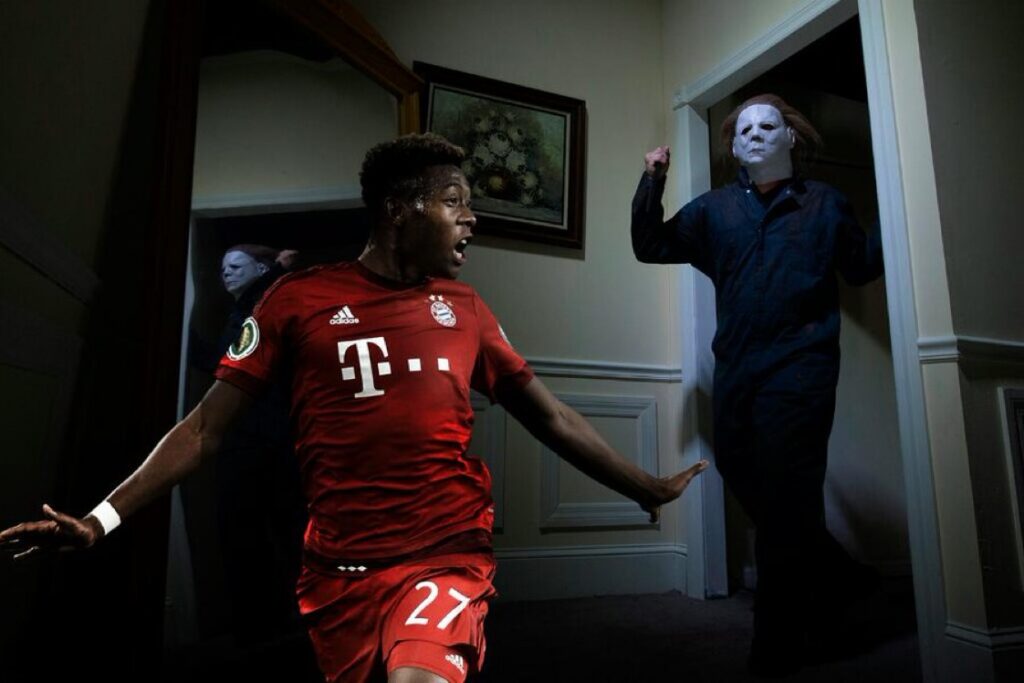 'We don't need to spend money in defence' is the cry and 'we are better off investing the cash in attack'. I thought I would run though some stats here to help you decide. Is the Liverpool defence really that bad without VVD? The recent reality so far is that they kept a clean sheet at Ajax and conceded a very controversial penalty against Sheffield United. And had another cleanie tonight vs MidgetLand. For a defender, Robertson (7.1) is top for number of touches in the opposition box with 25, has the most crosses for a defender with 57 and the most shots in the box with 5. Unsurprisingly, after this, for a defender he has the highest xG of 0.91. His xA is 0.75 which leaves him fifth overall. TAA (7.4) has taken a hit in ownership since the start. Alexander-Arnold has provided 28 assists and five goals in his previous two campaigns, with his points tally improving from 185 points to 210. Since the start of the 2019/20 campaign, only Kevin De Bruyne and Jack Grealish have created more chances. Last season he even scored 24 points in just one game against Leicester away, which set a record for a defender in the history of FPL. This season TAA has 10 attempts on goal, the next best being Dallas with 6. His xA is 0.82 which is fourth and for chances created he's second with 12; one behind Cresswell. Robertson has taken 26 corners compared to Trent's 17. As you can see, there's not much between them generally. I believe there is an argument for saving the cash and investing elsewhere, so I do understand the argument for going without because of their high prices. On top of the fact that Liverpool have conceded 14 goals, which is the most in the league!
Quietly impressing over the first few weeks has been Ruben Dias (£5.5m), who has started every game since signing. He followed up a positive debut at Leeds with another composed showing against Arsenal and then vs West Ham.
When Mendy and Thiago Silva play together it appears Chelsea keep clean sheets: three out of three to be exact! Who benefits from that with attacking threat is Ben Chilwell (5.8) who has a goal, 2 assists and a clean sheet to his name in just three games played. He's created 9 chances for teammates and is even taking corners (15). Zouma at 5.1 million is a cheaper route into the Chelsea defence having started 5 out of 6 Chelsea games so far and has helped himself to two goals. The Chelsea duo also face low scoring Burnley, Sheffield United and Newcastle in their next three.
With the amount of goals going about I thought I'd concentrate more on the cheaper defensive assets next. West Ham's expected goals conceded of 4.97 is the best in the league. They've had the toughest fixtures of any team too. Coufal (4.5) is playing as a wing back and has two assists and a clean sheet in his first three games. Masuaku (4.5) on the left is also offering great value and has the highest xA in the game for a defender at 0.93. If you have a bit more cash Cresswell at 5 million has three assists to his name, he's already created the most chances in the game for a defender (13) and is on most set pieces.
With three clean sheets each in their opening five games I'm also picking Konsa (4.6) and Targett at 4.5. Not many teams are keeping clean sheets and Villa have looked very solid post lockdown (excluding the Leeds game). Konsa is a threat from corners and Targett has been unlucky not to have picked up an assist so far. They also have a great run of fixtures.
Attacking full back Lamptey (4.7) continues to impress me, especially with how far forward he is getting and how many times he is in the opposition box. Brighton have conceded the fewest shots so far in the Premier League and Lamptey is looking good for baseline bonus as well so far.
New Leicester CB Fofana will also offer value in defence at 5 million with Soyuncu out for three months. They have conceded just one goal since he came into the side.
Attacking full backs KWP (4.5), Dallas (4.5), Ayling (4.5) are decent alternatives. Dallas is second (for a defender) for goal attempts with 6 so far which perhaps suggests that one maybe on the cards soon enough.
If you like shopping in the bargain basement like me Kilman (4.1) has started the last three games for Wolves and looked really impressive. He has also just signed a new long term contract at Wolves so he must be doing something right.
Pascal Struijk (4.0), despite coming off after 20 mins, might still see some starts while Phillips is injured for Leeds. You know they are like a Halloween pumpkin they are great while they last but will likely turn rotten soon enough.
Midfielders

Mo Salah (12.4) and Sadio Mane (12.0) are the top picks in midfield and there is certainly probable cause backing a double up as they have 6 and 4 goals respectively. Salah has had the most shots, most shots in the box, the most penalty area touches and has even created the second most amount of chances this season. Salah blanked last time but the stats point out that it could have been a very different score, he had 4 shots, 3 Shots in the Box, 2 Big Chances, hit the post and marginal offside goal which was VAR'd while Mane picked up two assists. Mane has the highest midfield xG 4.03 in the game, second for shots and third for pen area touches but does trail Salah for assist potential.
Sticking with the obvious everyone already seems to own Rodriguez (8.0) and Son (9.5). Son's points have been impossible to ignore as he has 8 goals and 2 assists so far. Brighton and West Brom up next so there could easily be many more to come: the ownership (around 50%) tells us obviously both have done very well so far. Rodriguez (he's really no Alex Iwobi) stands second overall for chances created and big chances created so he's much more than assisting the assister. His xA of 1.93 is the best in the league. His 17 chances created is only bettered for all players by Bruno Fernandes with 18 (10.5). Bruno also is 4th overall behind Mane, Zaha and Salah with an expected goal involvement of 3.74. He's right up there for volume of shots as well which you would expect despite him playing a game less than most players. Man United have been pushing Bruno further forward in last two as they have had Fred and Mctominay holding. When these 3 have played together (4 times in total under OGS) United have never lost and Fernandes has double the amount of shots and double the amount of chances created that he usually does.
Wilfried Zaha (£7.2m) is enjoying his best-ever start to a Premier League campaign and despite him saying himself on twitter it's not worth owning him he's certainly difficult to ignore when he's in this kind of form. Playing out of position as a forward for Palace the FPL midfielder's double-figure haul in a 2-1 win at Fulham on Saturday took him to six attacking returns for 2020/21 and a total of 48 points. Stats wise for Crystal Palace Zaha unsurprisingly comes out on top in every area in terms of goal threat and as a creative force. Overall for midfielders with an xG of 3.84 he's third behind Salah and Mane. For xA 1.30 he's 4th behind Salah, Grealish, Rodriguez. Zaha has a difficult game at Wolves next but once that fixture is out of the way, he will face Leeds (home), Newcastle (home) and West Bromwich Albion (home). It must be noted Luka Milivojevic returned to the starting line up last game so Zaha will likely no longer be on penalties.
If you are looking for something different in midfield you could look to the team that most seasons scores the most goals in Manchester City. They averaged xG per game: 2019/20 – 2.48, while this season it's way down: 2020/21 – 1.24. Surely this will change soon enough and if you want to get ahead of the curve investing in City assets maybe that's wise. Raheem Sterling (11.6) is less than 10% owned and already has two goals and an assist so far and could be back to playing up top again as Aguero and Jesus struggle with injuries. Phil Foden (6.6) has gone a bit under the radar, the fear was his minutes but he's started five City games so far and has been really unlucky not to get more points. He's just four points short of Sterling's total score so far at four million less in price. Foden is City's top-performing asset for shots in the box and big chances pre-Gameweek 6.
You will have to accept the odd benching but last time out he scored from there as City players often do. A certain KDB is also back from injury now after his cameo appearance against West Ham which is always a massive help for creativity.
With two goals in three games Ross Barkley is my value pick in midfield at 6 million. He's taking more shots than Grealish and is almost playing as a second striker. My guess is he might be on pens as well as El Ghazi won't get a look in now. Grealish, purely because he touches the ball in the opposition box more than any other Villa player and sits 5th overall for chances created 15 in total, is possibly worth the extra cash at 7.2. Scraping the barrel in the bargain bins at sub 5 million are Lookman, who has already scored this season and hit the post twice against Palace. Soucek who stats wise has been extremely unlucky not to have scored yet is also a good enabler at 4.9. He's had 15 attempts on goal which is the 4th most for midfielders ahead of Son, KDB and Bruno.
Strikers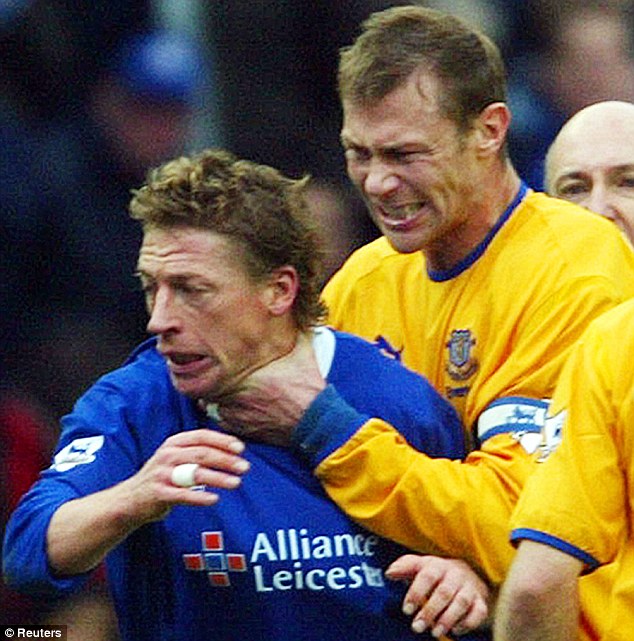 Harry Kane (10.9) is well and truly back. Granted you do not need to be a genius to work that one out as only So has scored more points than Harry in the game so far. Harry He has been directly involved in 13 goals this campaign , the most ever recorded by a player in his team's first six Premier League games of a season (5 goals, 8 assists). Kane has created more big chances than any other Premier League player (8). That increased level of creativity has not hampered Kane's shot output either as only Salah has more shots on target than him so far this season.
Calvert-Lewin (7.7) is the highest owned player in the game and is on fire but if you don't own him already…. No player in the league has accumulated more big chances than him since the Spurs game and excluding pens his xG 4.27 is the highest in the league. This suggests there will be more goals to come.
After this weeks tough game against Liverpool Michail Antonio (6.3) has a great run of games and could be the one to own in the sub 7 million striker bracket. His xG 3.07 highest has been surprisingly high considering the opposition West Ham have faced so far and is right up there with strikers with the most touches of the ball in the opposition box. We know what he's capable of against weaker opposition last season and his tough run in is the only reason why he has not picked up more points so far. Despite his tough run Antonio has 11 goals in his last 13 games.
Labelled as a 'casual pick' by many on Twitter Patrick Bamford (5.9) scored a hat-trick against the also labelled best defence in the league so far Aston Villa. Patrick 'poor finisher' (34 big chances missed last season) Bamford has 6 goals from 11 Shots. A conversion rate of 54.5% which is almost identical to Salah. Only Son and DCL have a better conversion rate. This is quite an upturn in fortunes but it's impossible to ignore and maybe Bamford thrives when he faces better defences in the Premier League.
Callum Wilson alternatively has a good run of games and he's pivotal to everything Newcastle do going forward. He has 4 goals so far and an xG of 4.3 is fourth overall behind Kane, Vardy and Maupay. Che Adams (5.8) who everyone gave up on now has two goals and an assist in his last two games which backs up his good underlying stats. It must be stressed that Danny Ings will score more but that's why he's 8.5. The ultimate cheap pick is Brewster: I don't see Brewster purely as an eighth attacker or occasional sub. At a price of £4.5m he's the ultimate enabler. If he only gets a return every third game, he's more than justified his value and allows you to spend the cash in other areas of your team.
Witch-ing you all a Happy Halloween (enough of the awful Halloween puns) game-week and good luck to everyone. I will say this season there are so many options we can't have everyone but as long as you become at peace with that you will have a good season so the key is not to panic.
Thanks for reading FPL Tips Gameweek 7. This article was written by Smash.
VOTE ON THIS WEEK'S CAPTAIN POLL GW7
FPL FIXTURE TRACKER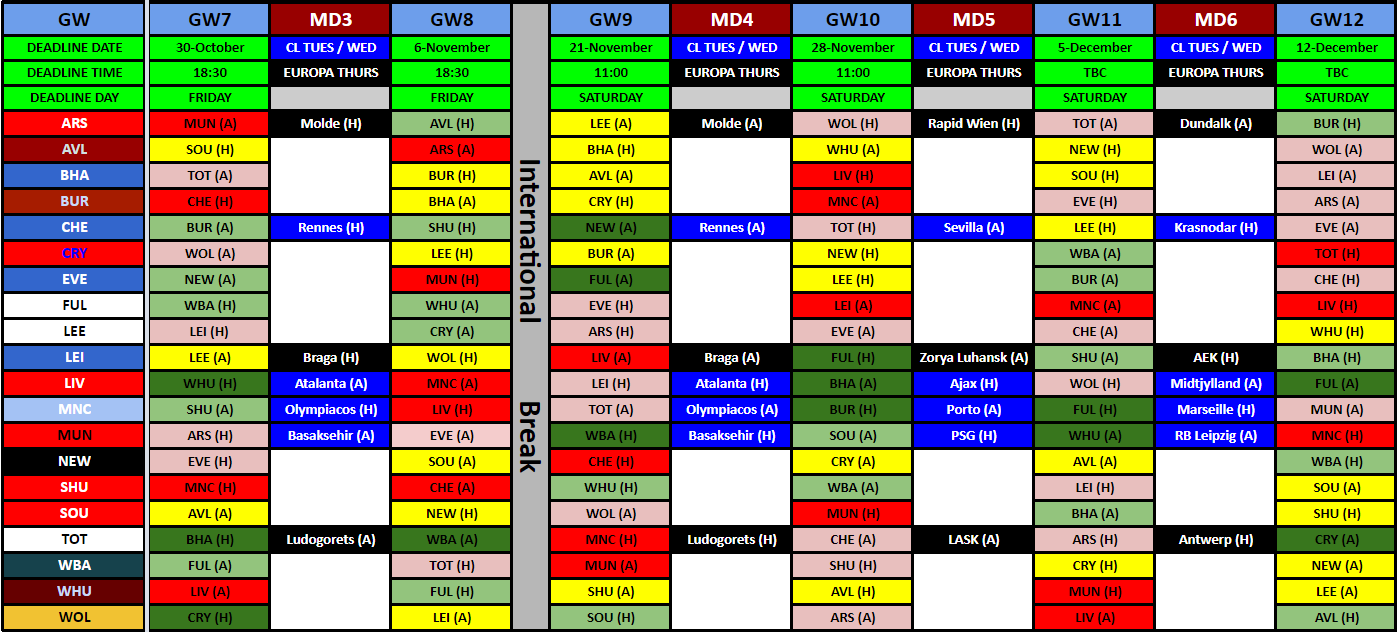 FIXTURE TRACKER LINK
Fantasy Football 247 League Codes:
All prizes must be claimed within 30 days of the final GW.