Fantasy Football Tips Gameweek 37
Welcome to Fantasy Football Tips Gameweek 37. DGW37 Tips
And so it is upon us.
It is the final double gameweek of the season and the biggest one as well. In reality this will be the week where you make your final dash to clinch that mini-league or perhaps break your personal best in the overall rankings.
On the chip front if you have three left then you're doing it wrong! You will lose one. We only have two weeks left and the smart FPL players will either be playing their Triple Captain Chip (See James' brilliant summary of the choices in his Captain's Article) or you will have your Bench Boost in hand with the chance to have up to fifteen players playing twice – that's 30 'shots' at point scoring – and how does that sound to get the juices flowing?
I personally will be using my Bench Boost this week which I prepared for with use of my Wildcard pre-Gameweek 35.
Some of you may have done the same but now have a free transfer (or two) in your pocket, others may plan to take a hit (or two [or three or four]) with the rule of 'break even' applying – where an assumed minimum 2 appearance points in each game negates the -4 hit taken.
Here, I will name the players who I see as being decent bets for DGW37. I will prefix this section by admitting rather unsurprisingly that I like Manchester City, Manchester United, Arsenal and Tottenham Hotspur with the fixtures they have so expect to see a lot of their guys here. For further analysis of this week's Fixtures, our own Rosco has covered this extensively and brilliantly already this week.
There are some pretty obvious picks as I've said, but fear not, there will also be a couple of budget picks as fillers as well.
Goalkeepers
David de Gea & Ederson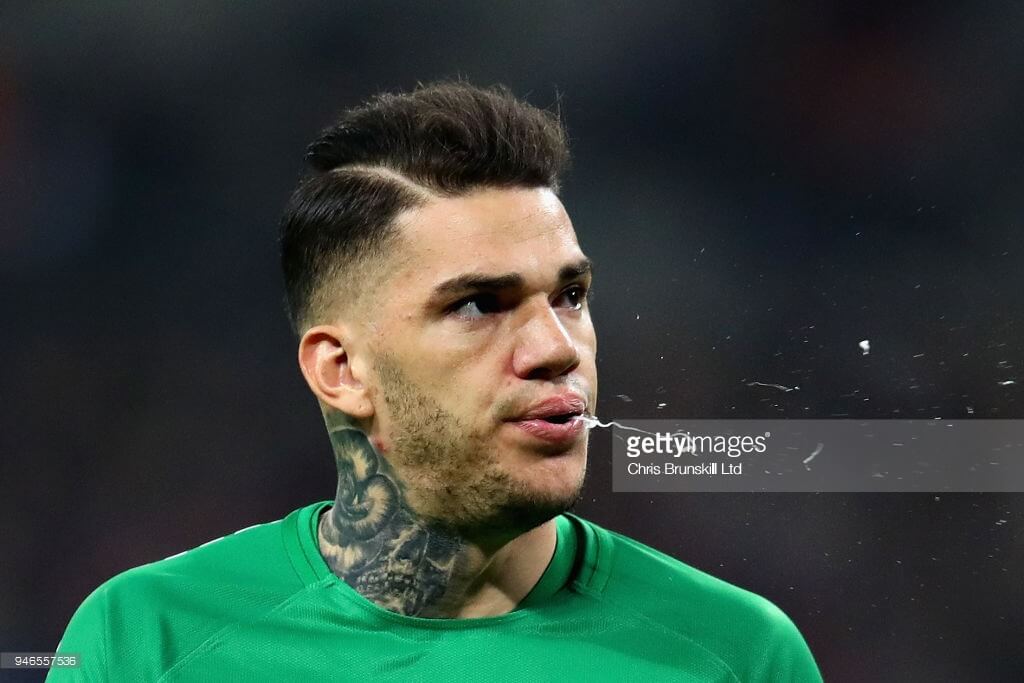 So we are starting with the two big Manchester keepers who make the cut here and with a Bench Boost in your pocket you could benefit from both of these guys against opposition as follows; Brighton, Huddersfield, Brighton and West Ham. I believe that these guys are the safest route in to their respective defensive lines and although both together would not be cost effective under normal circumstances, they would be fine if you have plenty of cash to burn and you only have to bench one of them for one week in GW38 when the opposition again is favourable when United are at home to Watford and City travel to Southampton. Even if you don't have Bench Boost to use I will still stand by my assessment that either of these guys would act as the perfect cover for each side and you would have no goalkeeping worries for the remainder of the season. These guys have 33 clean sheets between them with de Gea having 17 and just one more than the Brazilian (who interestingly has actually conceded one less goal but has played 45 less minutes).
One to watch here might be David Ospina who costs just £4.8M, providing he is injury clear ahead of Arsenal's double header against Burnley and Leicester. I would follow updates on the Columbian just in case cash is a bit tight and the above selection(s) are out of reach. We should have a fair idea after Arsenal's Europa League semi-final on Thursday.
Defenders
Nacho Monreal, Jan Vertonghen, Chris Smalling, Mike van der Hoorn, Declan Rice
On to the defenders and I was going to begin with someone who passed the 'eye' test in his last game. I watched Bellerin play against Manchester United and I must say he immediately sprang to mind for my own team should I be looking to trade a defender this week. Then I actually compared him with the other Arsenal defenders and noticed that for less cash, you can have Nacho Monreal who has scored three more goals and garnered six more bonus points so although I have tipped him many times on here, I'm sorry but I will once again suggest Nacho if you fancy Arsenal defensive coverage in some decent games (on paper), including the Europa League play-off match against Burnley (that was without doubt one of the most awesomely funny things I've ever had to write!). So if you don't fancy Ospina, then would The Nacho man do? Oooooh yeah!
The Football Writers announced their Player of the Year yesterday morning and the two-horse race was won by Mohamed Salah ahead of Kevin de Bruyne. I noted that Spurs' Vertonghen also was listed as a 'voted for' among the scribes. I feel this is well justified as a token gesture (Salah or KDB were always winning it) as for me, I don't think there is a more solid and dependable defender in the league currently. When you look through his points so far you'll see that you don't really get much more than his solid six points for a clean sheet but with Spurs having two favourable games against West Bromwich Albion and Newcastle United and then an already-clocked-off Leicester on the final day, then this is pretty much as close to buying a clean sheet as you can get. He has only missed 121 minutes out of the whole Premier League season so is as assured to play each game as can possibly be.
Chris Smalling makes the cut due to the acknowledgement that a number of us like the Manchester United defence double-up (perhaps as much as owing to the lack of dependable attackers at Old Traffford as much as their defensive qualities) and I think David de Gea and Chris Smalling is the way to go. The ex-Fulham and England man has scored four goals this season so knows where the net is and actually missed a clean chance against Arsenal when, under no pressure, he opened up his foot in true striker style only to miss it completely in true comedy style. I say Smalling plays all remaining games. Prove me wrong Jose* (*He doesn't read this I hope).
I round off with the filler section – Mike van der Hoorn of Swansea City (£4.4M) and Declan Rice of West Ham United (also £4.4M) have been playing recently and both have doubles in Gameweek 37. That and they may just make the perfect jigsaw piece price-wise once your DGW squad is almost complete. I will point out here that I am not expecting huge things from either but at least they get two shots at keeping a clean sheet and not everyone of your bench Boost team can be a superstar. I do also note that my other previous tip – Jan Bednarek of Southampton (£4.1M) – is still keeping hold of his place so he is another who could do a job for you.
Midfielders
Raheem Sterling, Christian Eriksen, Aaron Ramsey, Marko Arnautovic & Dusan Tadic
I'm going to go in reverse here and tell you what I have told you for years – get Dusan Tadic! 'The Legend' of these parts, Mito, loves every opportunity to remind me that I tipped him for something once but I always knew that I would be here months/years later telling you that he is THE hottest property (of under £6.2M) ever to have played in FPL. OK, an exaggeration but our very own Inittowinit has benefitted from some kick ass points from the Serbian lately – he has chalked up 27 points in his last three matches and is in quite a burst of form and now faces both Everton and Swansea (admittedly both away) but for the cash you'll spend on him, he's well worth a blast this week. Mark Hughes, tasked with keeping the Saints up, must realise that the midfielder is his biggest hope for collecting the necessary points to complete his task.
Marko Arnautovic of West Ham is very similar to Dusan Tadic in that he is the biggest hope that David Moyes has of keeping West Ham United in the league – both figuratively and literally now that previous Double Gameweek Legend Andy Carroll has been excluded from the club for a disagreement with the manager. It needs highlighting again that the Austrian is classed as a midfielder but is the focal point of the Hammers' attack and has games against Leicester City and Manchester United, so a bit of a mixed bag but it's definitely not outside the capabilities of Marko to grab a goal in each. Amazingly to me, he didn't score a Premier League goal until Gameweek 16 against Chelsea which was on December 9th! Since then he has gone on to score 9 other goals and assist five times.
Aaron Ramsey is dependent on his appearance or otherwise against Atletico on Thursday Night but I would back this guy if I knew he would play most of the minutes for the rest of the league season. And for the purpose of this article, I am! He is the top point-scoring Arsenal midfield player with 121 points and is only five points behind Alexandre Lacazette. I think the 12 points the Welshman picked up against West Ham recently points to the potential he has for hitting double figures (four so far this season) in games against Leicester and Huddersfield. Burnley too, could also be a fair opportunity to add to his 7 goals and nine assists. The fact that you can pick him up for just £6.8M is also attractive.
The last two, or first two depending on how you look at it, are again from two of the teams with the best fixtures this week. I like Raheem Sterling from Manchester City, with games against Huddersfield and Brighton both at home and Christian Eriksen of Tottenham Hotspur who faces West Bromwich Albion away and Newcastle United at home. Lip licking! A hat-trick of assists last time out against West Ham has led to calls of 'Triple Captain Sire Sterling' around these parts. Not at all outside the realms of reason says I. Dilly dilly! Only his clubmate Kevin de Bruyne has as many assists as him this season and the only thing more amazing than his 17 assists are his 18 goals. Can he get through the twenty barrier on both tallies? I wouldn't bet against it. Dane Eriksen has only blanked twice in his last eight appearances and is Mr Reliable for FPL points. With these fixtures and the three other brilliant players surrounding him in the Tottenham side, then there can be no way on this earth that the midfielder will blank in both of these, dare I say, even one of these matches. To me, he's a must for the final three games of the season.
Attackers
Harry Kane, Gabriel Jesus, Pierre-Emerick Aubameyang & Jordan Ayew
Hardly surprising yet again that I firstly pick the two players who play at the sharp end of these Spurs and City attacks. Harry Kane is looking a little tired to me but is still chugging along and picking up a goal here and there and you only have to cast your mind back to the end of last season when the ghost-goal-getter scored SEVEN goals in just two games. It's when you consider that Spurs next three matches are against West Brom, Newcastle and Leicester (who were one of his victims last season when he scored four goals at the King Power) then can you really do without him, fit or not, tired or not? If he plays, he stays. There's the small matter of winning the Golden Boot as well, keep in mind.
Gabriel Jesus has scored three goals, created two assists and missed a penalty in his last three games since Sergio Aguero took injured and handed the firing duties to the Brazilian striker. As City play Huddersfield and Brighton, then it is sensible that you stick with (or buy) the man who benefits directly from one of the best supply lines in world football. You'll probably also want him at Southampton on the last day too.
My favoured strike-force would be completed by the Arsenal striker who shall not be named (Ed: except above? …. Damn.), but simply be referred to as PEA. The Gaboneser cannot play in the Europa League semi-final on Thursday and with Alexandre Lacazette rested last Sunday, it seems a stick-on that PEA plays the full ninety against Burnley on Sunday and in my view should play enough (if not the full 90 again) against Leicester on the following Wednesday to justify inclusion this DGW. Before his blank on Sunday at Old Trafford, the striker had returned in his previous six matches (four goals and three assists). I can see him picking back up in his final three games, and again he finishes the season with a really good looking fixture, in possibly Arsene Wenger's last match as Arsenal manager (*wipes tear*) at Huddersfield.
I would offer Jordan Ayew of Swansea City as the cheaper third striker for those looking to stack a midfield in preference for a top-heavy attacking three. The ex-Aston Villa man is currently on seven goals and needs just one more to beat his best ever tally at this level and in fairness 102 fantasy points so far for £5.3M is not too shabby at all. I think the Ghanaian will get a fair chance to break his own PB in matches against Bournemouth and Southampton, or even at Stoke on the last day. Stay up Swansea! Do it for King Carlos!
Finally, I'd quickly mention that of the single gameweek players, I say you keep Mohamed Salah and Wilfried Zaha if you have them. Wilf has scored 14 points twice in recent weeks and is facing Stoke and West Brom to see out the season. Salah is Salah and I would not be put off by the fact they play Chelsea who are phoning these performances in and probably will be as distracted by the FA Cup final as Liverpool will be by the Champions League one. Salah is aiming for the Golden Boot and I think his manager is very mindful of that. I say he plays even if Anfield Express won't call it!
So this is my last article of the season and I hope it will be helpful in some small way to most of you. Thank you all once again for reading my musings, supporting me with it and interacting with me each day on our fantastic site.
I look forward to enjoying my summer break especially those first few weeks when FPL ends and allows a recharge of the batteries. But that doesn't last too long before we begin to look at the newly promoted teams, post/pre-season tours etc.
I'm hoping we will be having a decent World Cup fantasy game to play – as will most Italians as well I suppose – and FF247, as always, will be the best place for advice and general football chat.
Good luck these final two weeks everyone. Let's finish on a high!
Thanks for reading Fantasy Football Tips Gameweek 37
This article was written by The Gallant Pioneer
The League Codes for FF247 for the 2017/18 season are as follows:
Gameweek Tracker GW37-38