Fantasy Football Tips Gameweek 9
Welcome to Fantasy Football Tips Gameweek 9. I don't necessarily dislike the international breaks, particularly when there are other sports to enjoy and this time around we had the final pool games of the RWC to enjoy. At least those that weren't called off due to typhoon Hagibis. Back to the football. As I said, I don't necessarily dislike international football, I'm probably more ambivalent towards it. I mean, if Ireland somehow manage to qualify for the Euros I'm sure there will be a carnival atmosphere come next June/July. However, if we don't qualify I won't lose any sleep. Gone are the days when we had great players such as Paul McGrath and Ronnie Whelan. It's hard to get excited when you have the likes of Glenn Whelan in the team.
Last time out GP scripted an excellent Tips article when he focused on some of the highest scoring players in FPL. I've decided to stick with a similar trend this week and focus on the game's most popular players and what we should be doing with them… yes, I'm being lazy!!
Goalkeepers
With an ownership of 24.5% Brighton's David Button is currently the most popular keeper. We all know why. Well at least some of us do! For those that don't. He actually made a number of appearances for Brighton last season, he even kept a clean sheet, and started this season priced at £4.0. For those who started the season with a set and forget keeper he became the bench fodder of choice simply because there was an outside chance he might get a game. However, this will only happen if Mat Ryan gets injured. To be honest, I don't see the logic in owning Button unless you own Ryan and Ryan only features in 13.8% of teams. If you own him you'll obviously keep him as you're not going to waste a transfer. If you don't own him and you have a WC in your pocket you might consider the Ryan/Button double up.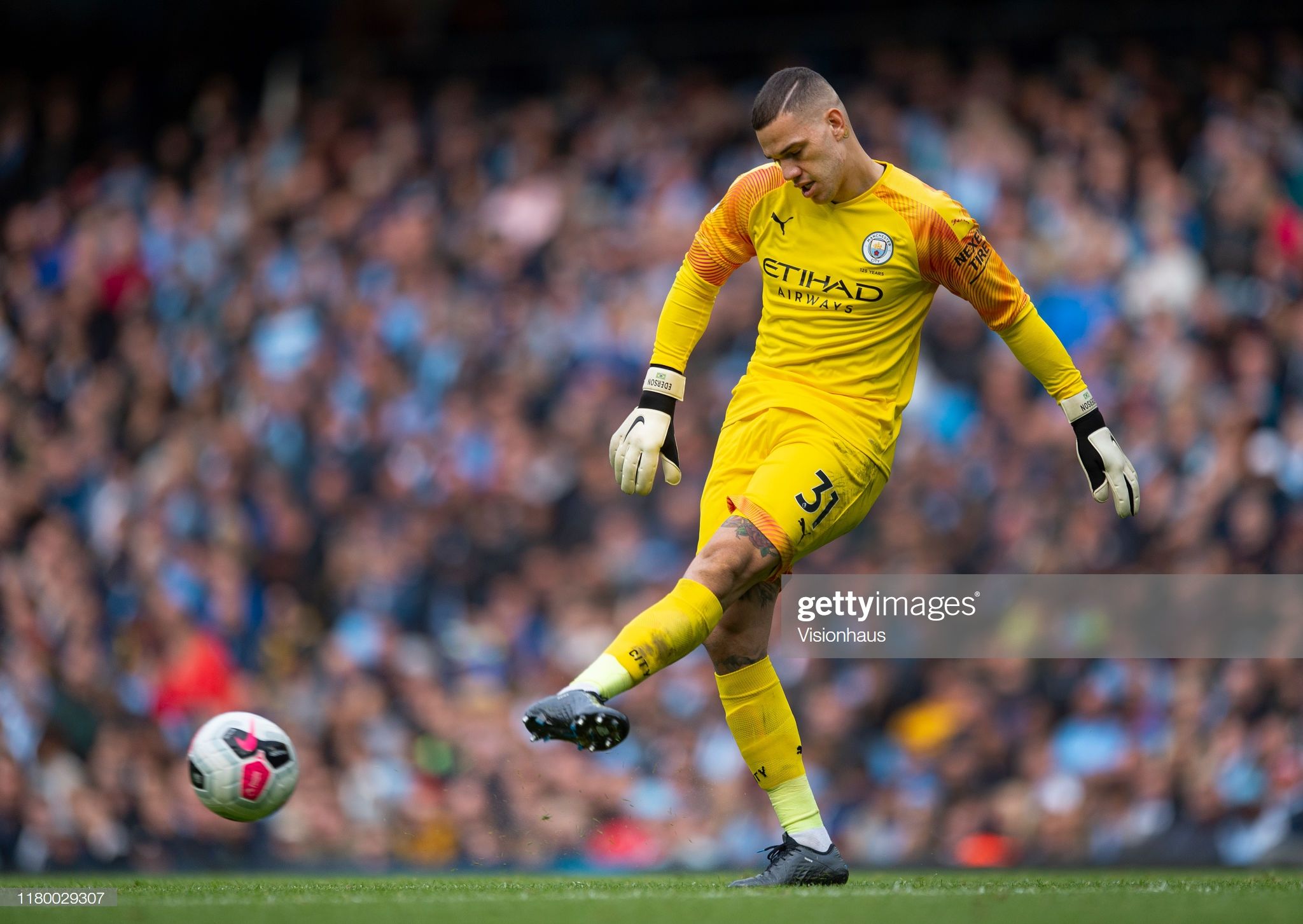 Next up is Ederson on 21.8%. When City went to West Ham and won 5-0 on the opening day of the season the common response was, 'here we go again'. The Brazilian made three saves in that game and picked up 7pts. By the time GW2 rolled around his price had increased to £6.1m. He's since kept a further two clean sheets meaning he sits level with another six keepers at the top of the tree with three clean sheets. It's worth noting that all of these keepers are at least £1.0m cheaper than the City stopper. It's also worth noting that five clubs have conceded fewer than the nine goals City have conceded. They're giving up an average of 3.6 shots on target each game compared to an average of 2.1 over the entirety of last season. When they conceded three to Norwich in GW5 people put it down to a Pukki sized blip. However, conceding two at home to Wolves in GW8 can't be described as a blip. There are clearly some underlying issues which perhaps can be attributed to the absence of Aymeric Laporte. I have no doubt that a manager of Pep's quality will find a way to solve these issues but for now I'd recommend selling Ederson.
Third on the list is David de Gea. Only three teams have a better defensive record than United after the opening eight games. Unfortunately for OGS and owners of de Gea this has only translated into two clean sheets. On the two occasions that Dave kept a clean sheet he picked up two bonus points as well as a save bonus point. This is obviously a bonus but we pay a premium for keepers like Dave for their clean sheets not their bonus points. United's defensive stats are quite interesting in that they've given up the fewest opportunities in their own box but five teams have a better record when it comes to shots given up on their goal. Does this suggest that the defence are doing their job and that Dave is to blame? He's certainly not the keeper he once was but this is hardly surprising given his workload over the past number of seasons. Anyway, £5.6m is too much for a keeper who isn't keeping clean sheets. If you own him, sell him!
So the three most popular keepers aren't worth owning! Who should you buy? I'll keep this brief. The fixtures over the coming weeks suggest that the likes of Arsenal, Leicester, Wolves, Chelsea & Burnley are good bets for clean sheets. I'd keep an eye on the Arsenal defence as with Hector Bellerin and Kieran Tierney nearly fit enough to take up the full back spots their defence should be solidified. With Fikayo Tomori available for £4.7m I'm not keen on Kepa at Chelsea. Wolves have kept back to back clean sheets but for some reason I don't feel comfortable tipping Patricio, and bookies such as ComeOnCasino seem to agree with me That therefore leaves me with Schmeichel and Pope. As I've mentioned a number of times I'm not a fan of mid-priced keepers so I'll rule Schmeichel. So, by a process of elimination I'm left with Nick Pope. The Burnley stopper has kept three clean sheets, two of which have come in the last three games. He has made 26 saves this season and on four occasions he has made three or more saves and unlike de Gea you are buying Pope for his saves. He can be a set and forget until the end of November.
Defenders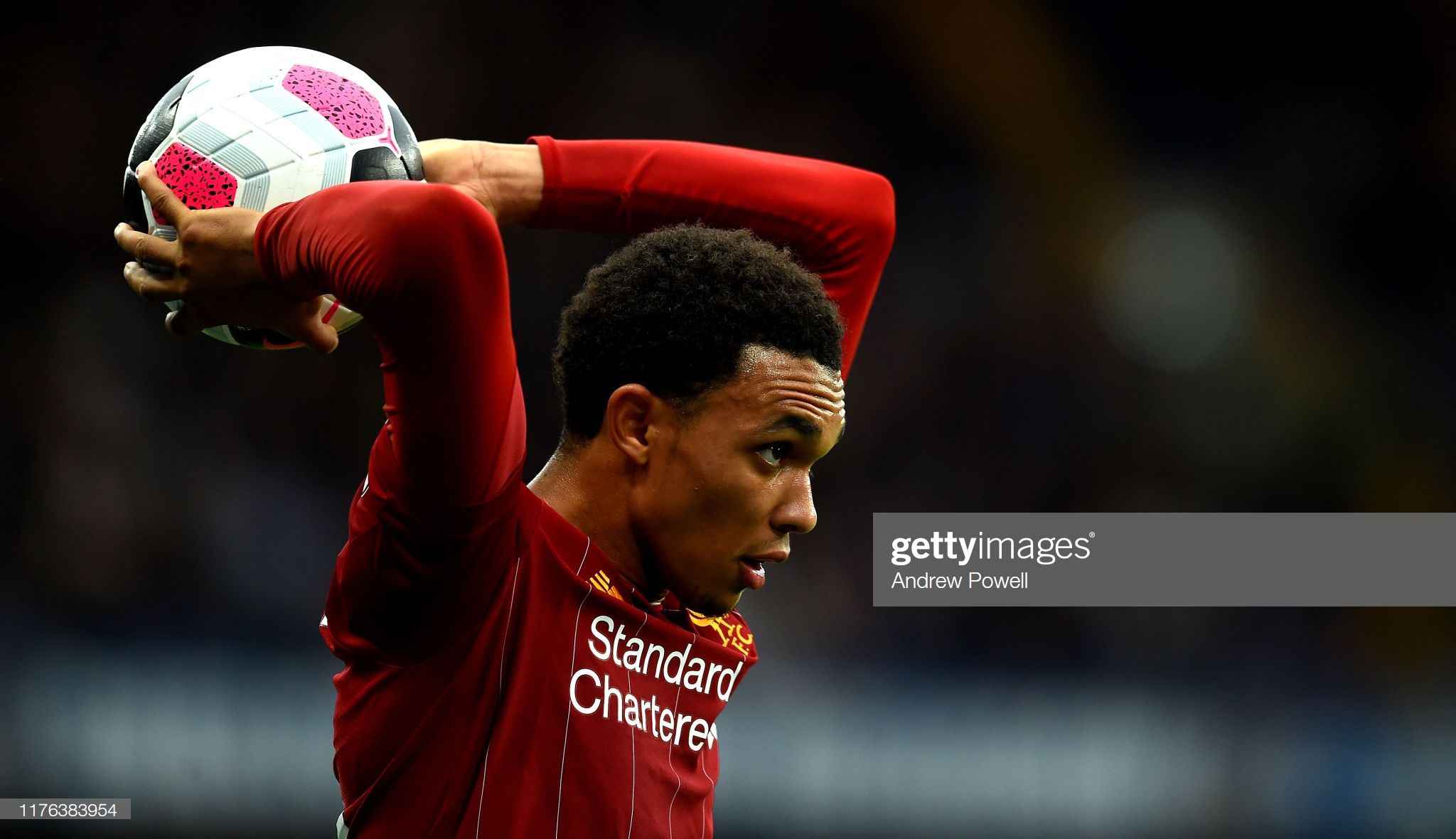 With an ownership of 46.5% Virgil van Dijk remains the game's most popular defender while his defensive colleague Trent Alexander-Arnold sits in 3rd on 30%. Unsurprisingly Liverpool have the best defensive record after the opening eight fixtures, conceding just six goals in this period. However, unlike last season they haven't kept a raft of clean sheets. In fact, they've only kept two. It's difficult to pinpoint why they are not keeping clean sheets. Some argue that the imminent return of Alisson will lead to clean sheets but I'm not convinced. Liverpool have given up the fewest shots on target and it's not as though Adrian has made any obvious errors. So, what do we do with Messrs VvD and TAA? When it comes to creating chances TAA is a machine. Over the opening eight games he has created 28 chances which is nine more than the next best defender and only one less that Kevin de Bruyne. He's had 15 penalty area touches which is only bettered by seven defenders. He's also had nine goal attempts which is only bettered by two defenders. I'll not go into van Dijk's stats in detail, all I will say is that while on their own they're quite good they don't bear comparison to TAA's. If you already own Alexander-Arnold, good for you, hold onto him and treasure him dearly. If you don't own him I'd seriously consider getting him, not only are his stats impressive but he passes the 'eye test' in nearly every game. If you already own van Dijk I'm not suggesting you sell him immediately but I would look at ways to replace him with TAA. If you don't currently own him I'd leave him alone for now.
Sandwiched in between the two Liverpool lads is none other than John Lundstram on 31.5%. Ahead of GW1 I chose not to tip Lundstram because every Blades fan on their message boards felt he shouldn't start. What would they know? About as little as me it would appear! The defender come midfielder has gone on to start every game and this has seen his price rocket from £4.0m to £4.5m. Not only has he started every game, he's picked up three clean sheets as well as a goal and an assist along the way. Just for good measure he's picked up maximum bonus points each time he's had an attacking return. Ladies & gentlemen I give you this seasons Aaron Wan-Bissaka! From a defensive point of view the Blades are one of the seasons surprise packages. They've kept three clean sheets and their defensive stats are impressive. If you already own Lundstram you will undoubtedly hold onto him. If you don't own him it's a little trickier. Given that his price has risen there are now a number of cheaper options available if you're simply looking for bench fodder. Three of their next five fixtures are against Arsenal, Spurs and United which historically would have been deemed difficult, I'm no longer sure if this is the case. On the basis of this I certainly wouldn't ignore him if you don't currently own him.
Next is Crystal Palace's Martin Kelly on 25.7%. Just as I avoided tipping Lundstram ahead of GW1 I did likewise with Kelly on the basis that he would only start the first game or two. He's actually started six of eight. I should point out that the two games he missed were the two games which Mamadou Sakho started. I will therefore assume that when everyone is fit that the first choice centre back partnership is Sakho & Gary Cahill. With Sakho currently out injured you will obviously hold onto Kelly should you already own him. If you don't already own him you could possibly consider him as a short term measure to free up some cash but if you're looking for a long-term option I would look elsewhere.
Finally, the 5th most popular defender is Lucas Digne. When the Frenchman racked up 17pts over the opening two game-weeks many of us said, 'I told you so'. Unfortunately he's only picked up 10pts over the subsequent six game-weeks. In terms of stats he's not far off the aforementioned TAA. He's created 17 chances which is 2nd only to TAA. He's had 17 touches in the opposition area which is 5th amongst defenders and has had 11 goal attempts which is only matched by Fabian Schar. So, his stats are excellent and his performances haven't been too bad either. It would appear as though the issue is his teammates! Nobody is taking the chances he creates, they've scored just six goals in their opening eight games. Only Watford and Newcastle have scored fewer. They've conceded 13 and only four teams have conceded more. It's enough to make you feel sorry for Lucas. If you own him you need to sell him and if you don't own you need to avoid him, at least until Everton rediscover some form.
Some options to be considered are certainly the Leicester duo of Ricardo Pereira and Caglar Soyuncu. Pereira is now the joint highest scoring defender thanks to two goals in his last three games. Soyuncu is available for just £4.7m and given Leicester's upcoming fixtures he could offer great value for money over the coming weeks. Burnley have been reasonably solid this season and at just £4.5m Matt Lowton is certainly worth consideration. A player to keep an eye on is Arsenal's Kieran Tierney who is soon to make his PL debut. He arrived from Celtic with the reputation for being an attacking full-back and has been likened to Liverpool's Andy Robertson.
Midfielders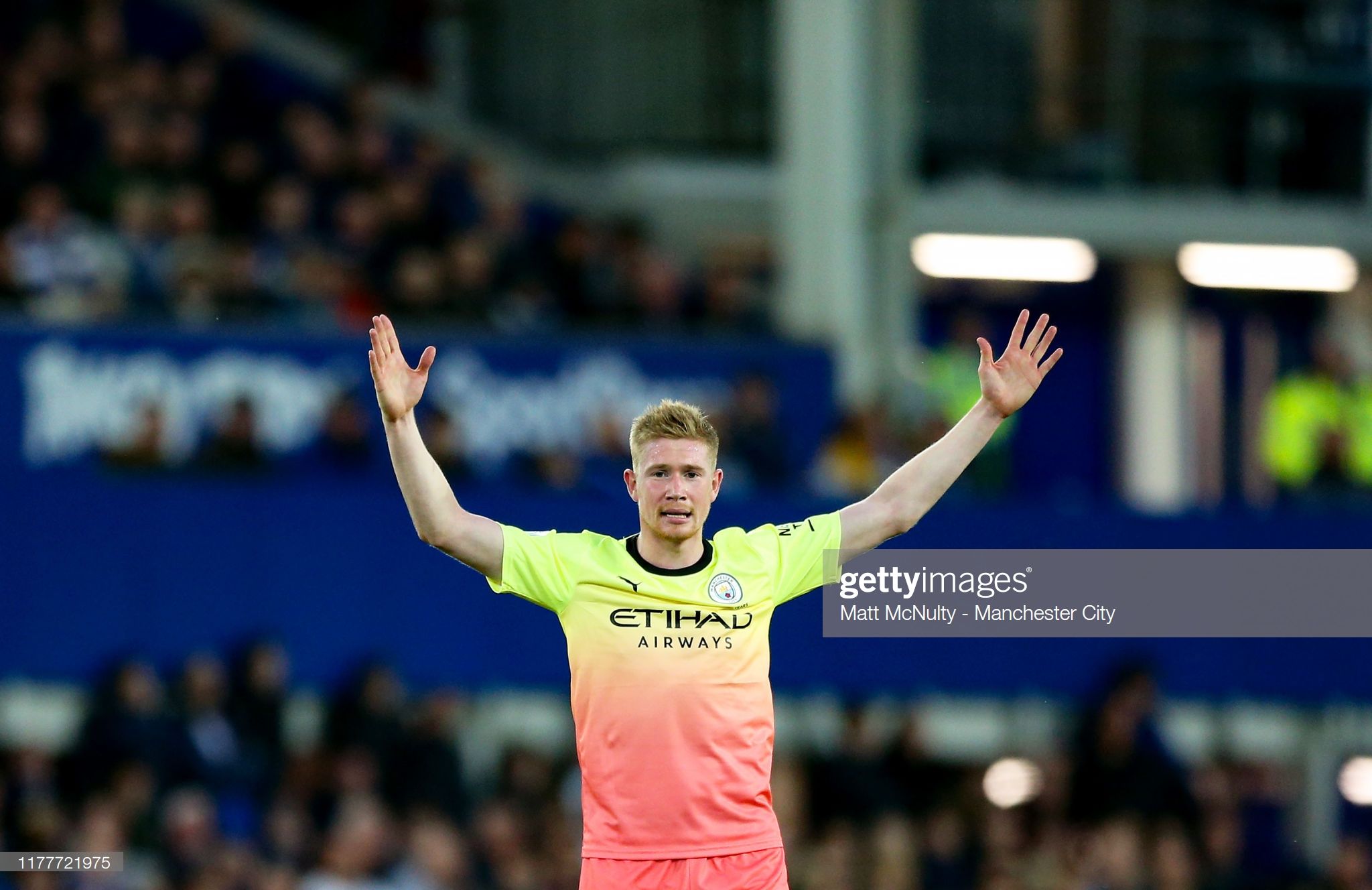 With an ownership of 38.2% Raheem Sterling is the game's most popular midfielder while his midfield colleague Kevin de Bruyne sits 4th on 31.2%. With five goals in his first three games of the season it appeared as though Sterling had morphed into Ronaldo or Messi. With just one goal in his subsequent four games he has returned to being Raheem and frustratingly for his owners he sat out the 8-0 win over Watford. De Bruyne has been his brilliant consistent best since the season kicked off and has picked up two goals and nine assists making him the highest scoring player in the game. The Belgian is arguably City's most important player. He started on the bench against Norwich in GW5 and despite playing the last 33mins he was unable to prevent City from being beaten. He missed out in GW8 due to injury and City were beaten by Wolves.
Over the course of the season to date Sterling's stats have been superb, only Salah has more penalty area touches and goal attempts, while he's level with Salah and John McGinn for attempts on target. Given his start to the season this is hardly surprising but even when we isolate the last two game-weeks his stats are still impressive. In these two games he had more penalty area touches than any other player and only four players had more goal attempts. So his stats are positive but he's not turning them into points. When it comes to creating chances KdB is king. In just seven appearances he has created 29 chances which is seven more than the next best midfielder. Touches in the opposition area and goal attempts are not really his thing but that's not an issue when you create as many chances as he does. I should not that his touches in the opposition area and goal attempts are not too shabby.
Those managers that currently own Sterling have something of a dilemma on their hands. Sell or hold? If you don't own KdB I'd sell Sterling and replace him with the Belgian immediately. Just imagine what you could do with that extra £2.1m? If you own both of them I'd hold onto Sterling for now as while I don't expect City to have it easy at Palace this weekend they then face Villa and Southampton at home. If he doesn't produce across these three games I'd be cashing in. What of KdB? It's simple, if you don't own him you need to buy him and if you don't own him you need to buy him.
*This is all based on the assumption that KdB returns from injury this weekend.
The 2nd most popular midfielder is Mo Salah on 36.2% while his partner in crime Sadio Mane is 5th with 26.5%. Salah or Mane? This has been ongoing debate for months and there's no right or wrong answer. In terms of stats Salah wins hands down in most categories. He's had 75 penalty area touches compared to Mane's 38, 26 goal attempts compared to Mane's 19 but interestingly Salah has only had one more shot on target 11v10. This could suggest one of two things, either Salah is somewhat wasteful or Mane is more clinical. I'm sure all of that expected goals nonsense could provide the answer but I'm not getting into all that now.
Liverpool are averaging 2.5 goals per game so despite their fixtures over the coming weeks I would suggest holding onto whichever of the two you currently own. If you currently own neither I would probably advise you to wait until GW13 to pick one of them up. Presently Mane appears to be the better option of the two but we all know that could change very easily at any moment in time. As I've said before you will break your heart if you keep switching between the two so just pick one and stick with him!
With Chelsea banned from making transfers they have finally been forced to play a number of their youngsters who season after season they have farmed out on loan. Mason Mount has certainly stood up to the plate and as a result he now finds himself as the 3rd most popular midfielder in FPL on 34.7%. His stats are solid but not spectacular, however he is the 5th highest scoring midfielder in the game. He's also outstanding value for money at £6.8m. Take a look at the top 10 scoring midfielders to date and you will see that he's the 2nd cheapest option. Given his value and Chelsea's upcoming fixtures, if you already own him you will certainly be holding onto him. If you don't already own him there is certainly an argument to be made for getting him in.
A number of alternatives worth considering are West Ham's Andriy Yarmalenko, Villa's John McGinn and Chelsea's Callum Hudson-Odoi. The Hammers have a reasonable short-term fixture list and Yarmalenko has two in his last three. John McGinn has been one of the standout performers for Villa on their return to the PL. He ranks 3rd amongst midfielders for goal attempts and is joint top for shots on target. This has resulted in him scoring three to date. CHO missed the start of the season due to injury and is slowly being reintroduced to the first team by Lampard. He has picked up an assist in each of the last two game-weeks and features in just 1.2% of teams. And continued his re-emergence in midweek with a brace for England U21's.
Forwards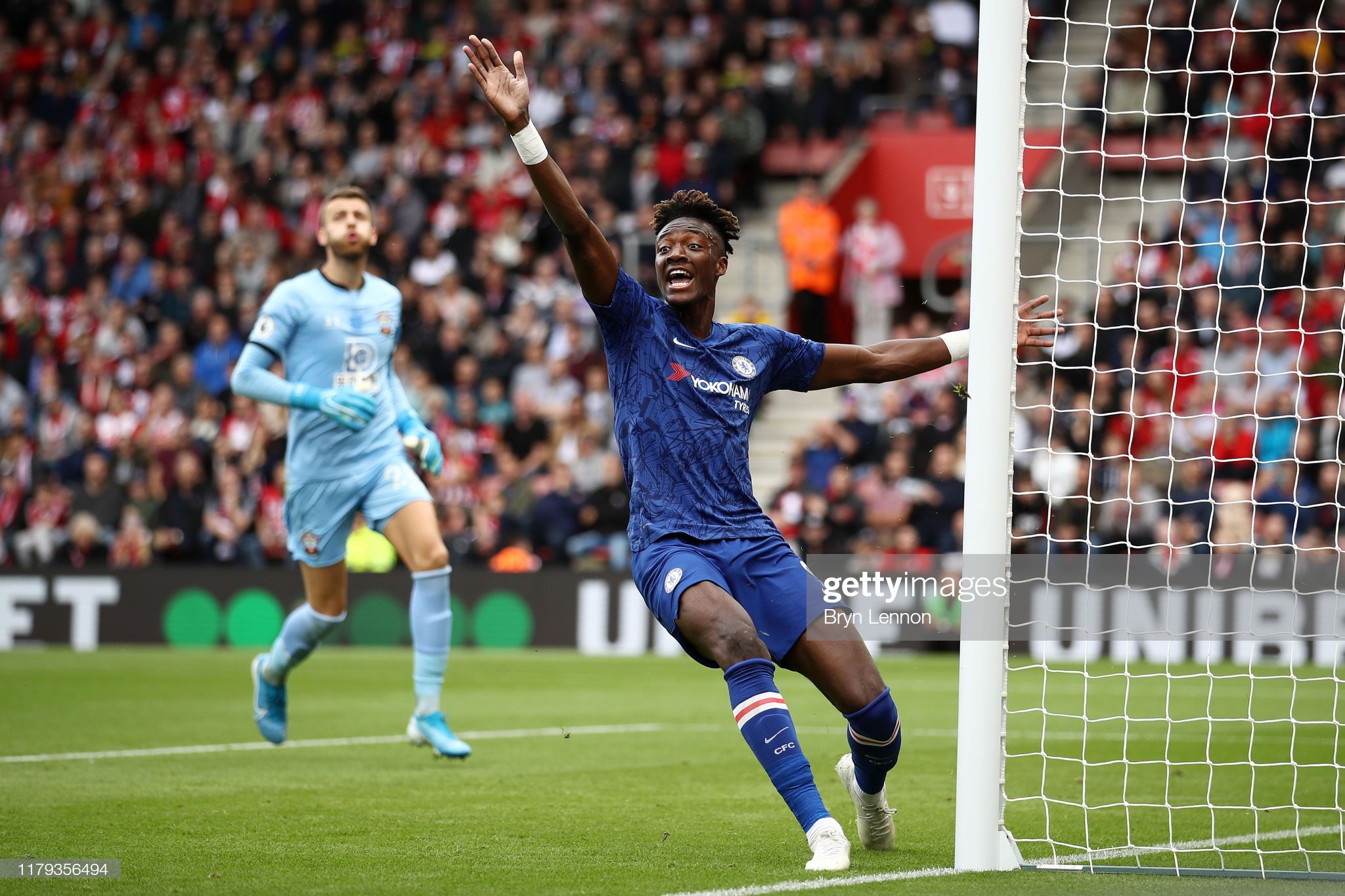 The most popular forward in the game is currently Chelsea's Tammy Abraham with an ownership of 42%. This is hardly surprising as he started the season priced at £7.0 and is currently the joint highest scorer in the league with a total of eight goals. As a result his price has risen to £7.7m. He's had just 34 penalty area touches (11th amongst forwards) but has still managed 26 goal attempts (2nd), with 15 of these on target (joint 1st). Chelsea are clearly a work in progress under Lampard and while they have issues to deal with defensively, going forward they have started to click. Only City and Liverpool have scored more. As I've already noted above they have some great fixtures over the coming weeks and this should see Abraham remain amongst the goals. Quite simply, if you own him you keep him and if you don't own him you should seriously consider buying him.
Following closely on Abraham's heels is Norwich's Teemu Pukki. The Finnish international got off to a flier back in August scoring five goals in his first three games. He has however scored just once in his subsequent five games. Over the course of the season he's had 53 touches in the opposition area which sees him ranked 2nd amongst forwards. He's had 24 goal attempts (Joint 4th), 15 of which have been on target (joint 1st). If we now look at the last four game-weeks we see that he tops the charts for touches in the opposition area, however when it comes to goal attempts he has slipped to joint 7th and has slipped to joint 9th for attempts on target. For those that currently don't own him, it's simple, don't buy him. For those that own him things are that bit trickier as many will have value tied up in him. To this I would say, don't hold onto a player just because you have value tied up in him. Given both his and Norwich's recent form I'd consider selling him.
Next up is Sergio Aguero on 29.6%. I'm going to keep this simple. His stats are good (they always are) and he's blanked just once this season. City are averaging over three goals per game and despite some obvious problems at the back they will continue to score freely. If you own Aguero you keep him. If you don't own him you need to look at what City assets you do own. KdB is the obvious choice. After that I would suggest owning Kun over Sterling due to his consistency.
The final player we'll take a look at is Pierre-Emerick Aubameyang who sits 4th at 27.9%. Just like Aguero he's blanked just once this season. The general consensus is that Arsenal have a great run of fixtures coming up but I'm not convinced. Three of their next four opponents have conceded eight or less goals in their opening eight games. The imminent return of Alexandre Lacazette is likely to see Auba pushed out wide but that's not to say his goals will dry up. For those of you who currently own him I would unquestionably hold onto him. For those of you who don't own him I'd suggest taking a watching brief just to see how Arsenal cope against the likes of Sheffield United and Palace.
A couple of players to keep an eye on are Bournemouth duo Callum Wilson and Josh King. Just like Aguero & Auba, Wilson has blanked just once this season registering five goals and three assists. Despite this his price had dropped from £8.0m to £7.8m although this has since increased to £7.9m. King isn't as consistent as Wilson but has scored just 10pts fewer and is available for £1.6m less. Leicester's upcoming fixtures mean that Jamie Vardy shouldn't be ignored.
Thanks for reading Fantasy Football Tips Gameweek 9. This article was written by Kop.
FPL FIXTURE TRACKER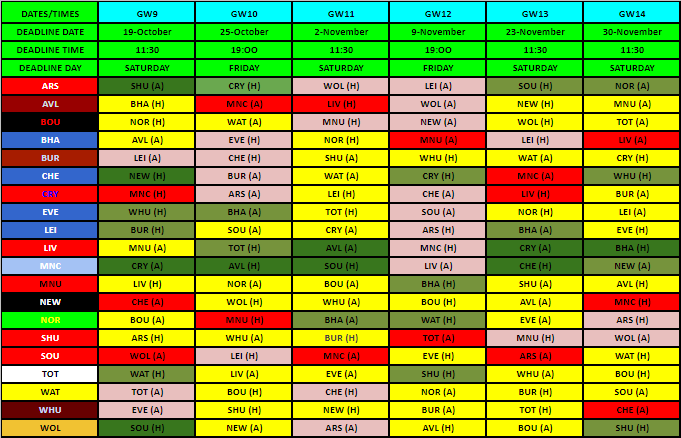 FIXTURE TRACKER LINK
Fantasy Football 247 League Codes: