Fantasy World Cup Russia Group C Guide
Welcome to Fantasy World Cup Russia Group C Guide. Group C is made up of four teams with long and varied World Cup histories. Group favourites and top seeds France are making their fifteenth appearance and were winners on home soil in 1998. Whilst it may not look like it upon first glance, this group is packed with World Cup finals experience, as each of the other three sides are all making their fifth appearance at the finals and none of the four sides have failed to escape the group stage. With both Peru and Denmark both being previous Quarter Finalists and Australia reaching the last 16 in 2006.
Interestingly, both of the Intercontinental Play-Off winners feature in this group with Australia (after beating Honduras 3-1 over two legs) and Peru (who conquered the Aussies' Oceanic neighbours New Zealand by two goals to nil across two matches) scheduled to meet on the final group match day.
When you also consider that the Danes had to negotiate the UEFA play-offs, where they crushed Republic of Ireland 5-1, then in reality you have three of the four sides in the group having to 'play-off' to reach the finals, then this is quite the quirk and a first in World Cup finals history.
On 15th November 2017, Peru became the 32nd and final team to qualify for this years' tournament. Los Incas have had the longest wait to reappear of all previous World Cup participants – it was Spain in 1982, 36 years ago.
Fixtures
16th June
France v Australia
Peru v Denmark
21st June
Denmark v Australia
France v Peru
26th June
Denmark v France
Australia v Peru
France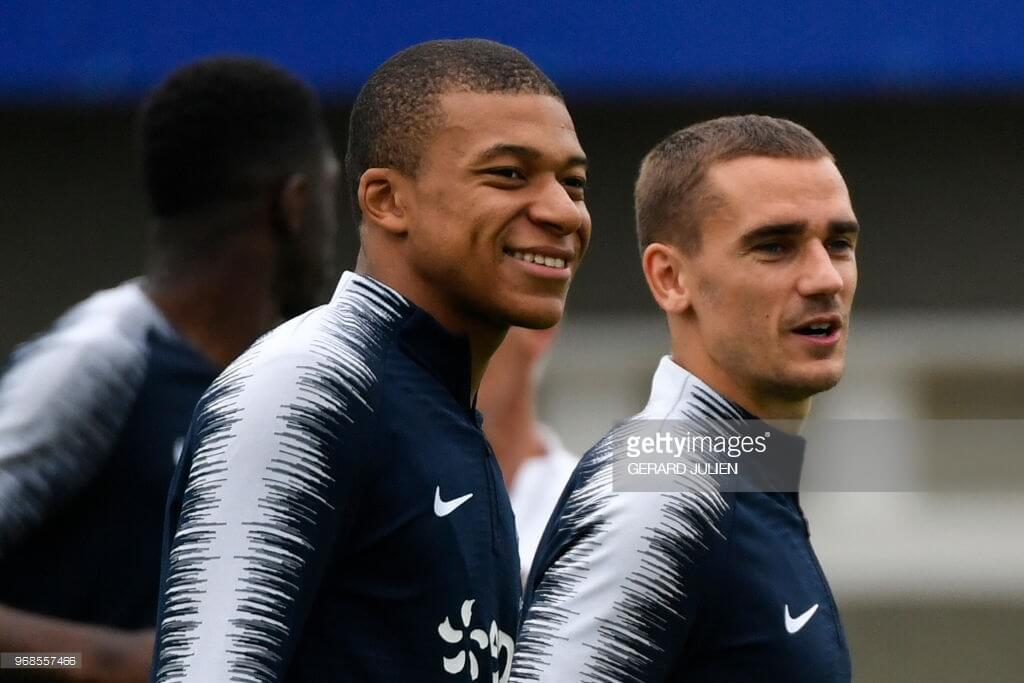 Likely XI
Lloris
Sidibe Umtiti Varane Mendy
Matuidi Kante Pogba
Mbappe Griezmann Dembele
Such is the embarrassing depth of talent at the disposal of coach Didier Deschamps, he can afford to leave Alexander Lacazette, Anthony Martial, Kinglsey Coman and Dmitri Payet at home and by the time kick off against Australia comes round he will most likely have any number of Florian Thauvin, Olivier Giroud, Nabil Fekir, Thomas Lemar or Ousmane Dembele on the bench. Little wonder that in many people's eyes this is the strongest ever generation of French players and a lot of love for them to win the tournament again – twenty years after their first – exists.
In their last tournament in 2016 and on home soil, they reached the final of the European Championship where they were beaten by an extra time goal to lose out to Portugal in Saint-Denis. This was an improvement on their quarter final show in 2012 but was still a major disappointment to the French people. They must go one better this summer to make up for that and will be looking for their best performance since being runners-up in Berlin in 2006.
Hugo Lloris is their number one goalkeeper, captain and stands to reach the 100 cap mark during the tournament. Their full backs – Sidibe of Monaco and Mendy of Manchester City – are only just returning from injury, but should be first choice if fit, however Benjamin Pavard of Stuttgart has impressed at right back in recent friendlies. The centre back pairing of Varane and Umtiti is the long term future of the side and I think they will be pitched in this tournament although Adil Rami may be a consideration for Deschamps.
The 4-3-3 formation used allows this French side to get the best from their talent pool. They attack at pace and the combination of power and athleticism means that it will take a midfield and defence of some substance to halt them. A midfield anchored by N'Golo Kante is always sure to succeed. Blaise Matuidi who is an absolute work horse should take a spot alongside Pogba and Kante. The back up to Kante and Matuidi is Sevilla's Steven N'Zonzi and Corentin Tolisso of Bayern Munich which again underpins the theme of their being an absolute depth of pure quality in this squad.
In attack, Deschamps often likes the focal point provided by Chelsea's Olivier Giroud in some games and although he is not universally popular with the French public, the coach may choose this route with Griezmann used to the side of him in a front three. Kylian Mbappe should take the other spot. However, the late form of Ousmane Dembele of Barcelona in the season just past, coupled with his natural speed and fleet of foot, makes me think that he could be the perfect balance with Mbappe in the wide areas with Griezmann taking up the central role. Giroud may be an impact substitute, much as he has been throughout his club career. Thomas Lemar of Monaco and Nabil Fekir, both linked with Liverpool in their time, will be jockeying for wide positions with the possibility that either could also actually play in the outer positions of the midfield three, which is a real head-scratcher for us trying to pick a fantasy player. Help please!
My 'Chesney' Pick (one and only): Antoine Griezmann – mainly because I see him being the most assured of a spot in attack.
Australia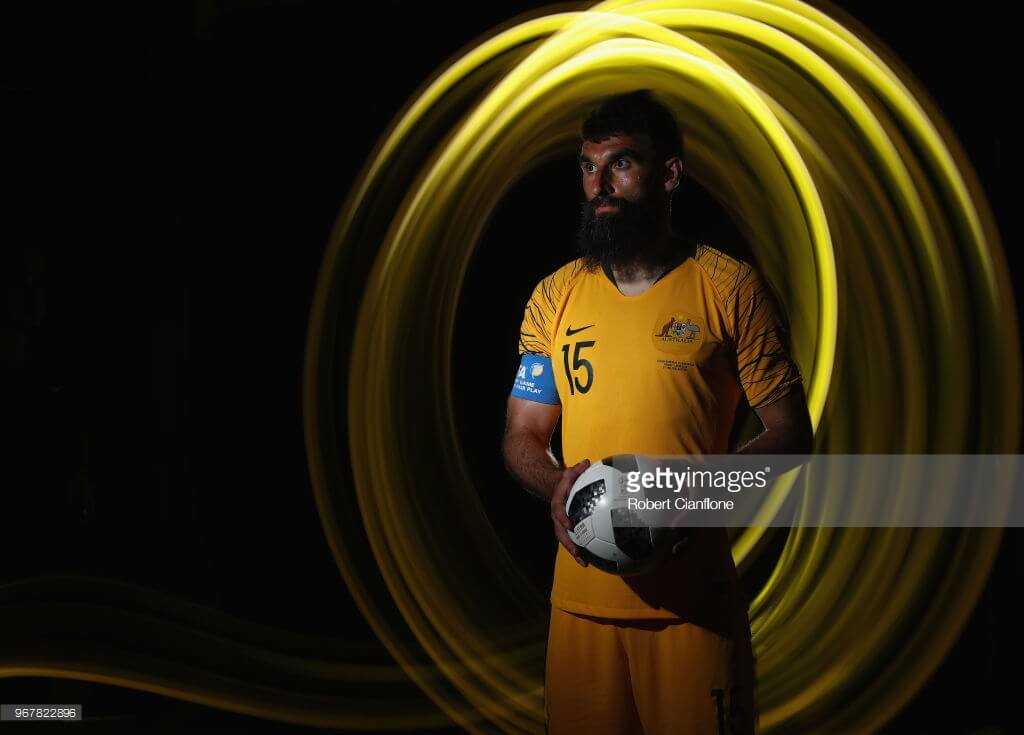 Likely XI
Ryan
Risdon Sainsbury Milligan Behich
Jedinak Mooy
Leckie Rogic Luongo
Kruse
If Denmark had to react to losing a manager of 15 years, then how do you react to losing your manager just two weeks after him qualifying you for Russia? Ask Australia.
Bert van Marwijk, who amusingly also left as manager of the Saudi Arabian national team having led them to this tournament, became Australia coach on 28th January 2018 taking over from Ange Postecoglu who admitted that the job had both professionally and personally got the better of him. He has since taken up a club position in Japan so it appears to the outside world that the issue was behind the scenes in Oz. So van Marwijk is in and by the time the tournament begins will have led the Socceroos just four times. They have lost 4-1 to Norway, gained a credible draw with Colombia and trounced the Czech Republic 4-0. They will round off against Hungary before they move on to opening up their campaign against France in Kazan.
Of course, van Marwijk has fewer tools at his disposal in his current position, but the Dutchman led his native country to the final of this tournament in 2010 in South Africa. He has also won the Europa League in club management and is assisted currently by Mark van Bommel who you will remember was a proper but somewhat "agricultural" leader on the pitch. I think Australia will be prepared, committed and will have obvious pride in representing their country but a lack of goals from them would be my biggest concern. If you remove Tim Cahill from the squad, who hasn't been playing recently anyway, then only one man in the 23 has scored more than 8 goals and that is Aston Villa's Mile Jedinak.
There is Premier League representation in the form of Huddersfield's Aaron Mooy and goalkeeper Mat Ryan of Brighton as well as the aforementioned Jedinak of Villa and Massimo Luongo of QPR from the championship.
Chesney Pick: Tom Rogic – The Celtic midfielder is about 1 goal in four for his club and about 1 in 5 for the national team. Real tendency to arrive in the box at just the correct moment and is a calm and very controlled finisher.
Peru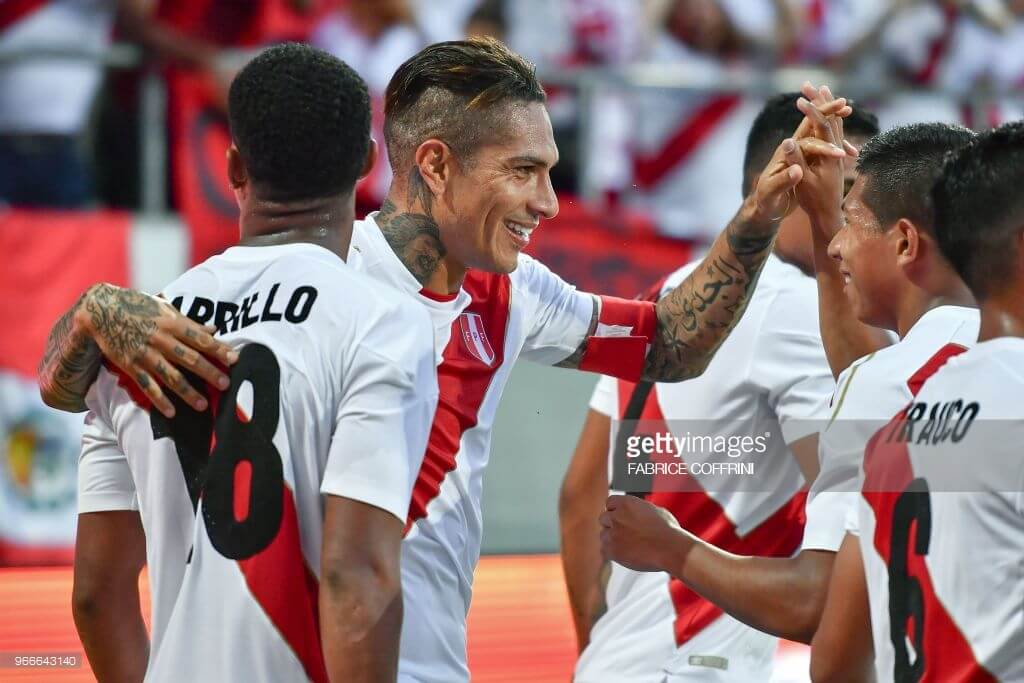 Likely XI
Gallese
Trauco Rodriguez Ramos Advincula
Yotun Tapia
Flores Cueva Carrillo
Guerrero
The words "World Cup" and "Peru" send shivers when combined. After 1978, asking a Scotsman to write an article on Peru is akin to asking an Englishman to write a piece about Maradona or your regular Irishman to profile Thierry Henry. OK so there's a difference in that the English and Irish were cheated and Scotland were just Scotland but nevertheless, the point stands so I unashamedly present the notes of The Legend Mito who has kindly cast his eye over La Bianquirroja for me. This is awesome and I'm not changing words for the sake of it!
With a late charge at the back end of the Conbemol qualifying section, Peru eventually finished fifth and defeated New Zealand in the Intercontinental play-offs to reach Russia. To To the team itself, Gallese will start in goal with Rodriguez and Ramos in front of him in the two CB spots. Trauco will get the start at LB, he takes the occasional corner. Advincula looks to be edging out Aldo Corzo for the RB spot, but that would be one of the ones that could see Gareca turn to either and it would not be a huge surprise. Yotun and Tapia will more than likely sit in front of the centre-backs as part of a 4-2-3-1. Yotun will take a lot of the set pieces (not pens) for Peru so he could be an interesting option if priced low enough although Peru themselves are not the most aerially gifted (altered to avoid offending anyone by using the term midget …Damn!). Flores should be the left mid. He was tied for the most goals for his side during the qualifiers with five, but he did it in five less games and hits a mean ball. Cueva will likely sit behind Guerrero, he will also have a share of set pieces and should take the penalties, although Farfan could take them also. Cueva was second in shots taken, goals and assists during the qualifiers for Peru. If you really are dying to invest in a Peruvian, this is likely the guy most likely to get you some points other than Guerrero.
La Focita Farfan is fighting Carrillo for the start at right winger. Farfan didn't play a ton during the qualifiers, only featuring in 6 of the 18 fixtures. With Guerrero suspended it was Farfan who scored the goal against New Zealand in the playoff that qualified Peru to its first world cup in 36 years. Carrillo offers more pace and could be preferred in a tougher match-up (France) or just in general as he also works much harder defensively than Farfan.
Paolo Guerrero, the Flamengo Striker, was supposed to be out of this world cup due to cocaine consumption claimed by him to ingesting tampered tea. After much back and forth, (including a signed letter of support from each of the other Group C team's captains), Guerrero has served his ban and the additional extension added by CAS has been withdrawn. He is very good in the air and extremely strong and Peru do tend to play to him and therefore become a bit one dimensional when he is on the pitch.
Chesney pick: Paolo Guerrero – the main goal threat with additional motivation now after his 'ban' is removed and he can represent his nation after all.
Denmark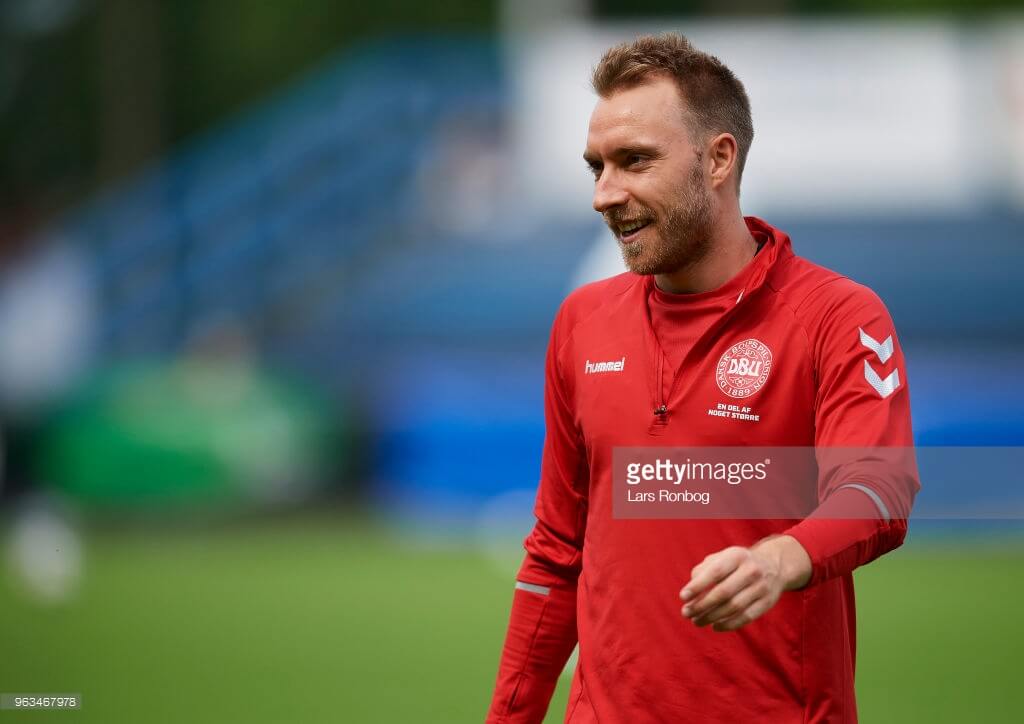 Likely XI
Schmeichel
Dalsgaard Kjaer Christensen Stryger-Larsen
Kvist Delaney
Poulsen Eriksen Schone
Jorgensen
The European Champions of 1992 have a bit of patchy qualifying history since making their first World Cup finals appearance in 1986. Since that debut the Danish Dynamite have been two off, two on and then one off and one on, in the last four editions. They arrive at this tournament having lost out to Poland in regular qualifying, but easily bettered the Republic of Ireland after a goalless first leg at home by putting five past the Irish in Dublin in November.
The star man in that second leg and the diamond in this functional and hard-working Danish side is Tottenham's Christian Eriksen who with Peru and Australia as two opponents should be a real contender for your squads. He scored eleven goals in total in qualifying and only Ronaldo and Lewandowski scored more in the UEFA section. You know that you get assists with him and he will be on most set plays and the tactic surely will be to make all play go through him. With Eriksen in the No. 10 role he should be flanked by two very capable attackers in Youssuf Poulsen of RB Leipzig and Lasse Schone of Ajax. The main striker will be Nicolai Jorgensen who has both the most caps and goals of the named forwards.
If you take Eriksen then you probably won't want a second Danish offensive player so you may fancy a defensive player and you have three from England you can choose in Kasper Schmeichel (Leicester), Andreas Christensen (Chelsea) and Henrik Dalsgaard of Brentford. The centrebacks and goalkeeper are probably more assured than the full backs seeing as both Dalsgaard and Stryger-Larsen have just 22 caps between them. A perhaps familiar face in the rearguard is Sevilla's Simon Kjaer, who seems to have been going on forever, but is still only 29 and captains the nation. I think Eriksen and potentially a cheap defender would be ample cover of Age Hareide's team as he looks to mould the national team in his own image after the fifteen year spell of Morten Olsen from the turn of the century ended to December 2015. Hareide has begun with qualifying for the first tournament available to him and will fancy his chances, with the draw, of reaching the Round of 16 to embellish his personal CV.
Chesney Pick: Christian Eriksen – has to be.
If you want my neck on the block then I'm having France winning the group from Peru with Denmark third and Australia bottom.
Enjoy Group C and the entire tournament.
Let's go!
The game itself can be accessed here – FIFA World Cup
And the official FF247 league can be accessed HERE or the code itself is KHC1BUJ8
Thanks for reading Fantasy World Cup Russia Group C Guide. This article was written by The Gallant Pioneer
Previous Articles –
Group A Analysis
Group B Analysis
Group stage fixtures in full…