Barry and Paul's World Cup Predictions Game 4
Welcome to Barry and Paul's World Cup Predictions Game 4 – the round of 16. The Group stages ended with a 1-0 defeat for England's reserves against Belgium's reserves. Perhaps this was all part of the Gareth Southgate master plan; that is to finish second and secure a place in the 'easier' side of the draw, who knows, and quite frankly who cares. The daily rags have an uncanny knack of talking England up or down, depending on how the mood takes them. Talk of who we'll meet in the Quarters? Jeez, we might not even make them, one game at a time eh lads. Its Columbia (tut!) next, lets hope we can win, if not there will be a certain FF247 writer who will no doubt revel in our demise.
On to the winners so far!
In Group stage 1 it was our very own Cookie who led the way; 19pts – Kudos Blue! Second place was close; Jamie Mc with 18pts. Third spot was a tightly contested affair with Fieldy, Frenchie and Zed Leppelin all finishing with 16pts.
Winner – Cookie 19pts
2nd – Jamie Mc 18pts
3rd Fieldy, Frenchie and Zed Leppelin
In Group stage 2 it was our resident MLS expert and FF247 'newbie' Ivan the Terrible who showed us how its done; A massive 24pts, only Mahelmy and Horse came close; a tie with 21pts to share second spot.
Winner – Ivan the Terrible 24pts
2nd – Mahelmy and Horse 21pts
In Group stage 3 unexpected results meant a low scoring affair for our predictors, It was our very own DMC who came out on top with 13pts, Jamie Mc snatched second place with 11pts, our man down the pub Silvers taking third with 10pts.
Winner – DMC 13pts
2ND Jamie Mc 11pts
3rd Silvers 10pts
Overall Table
At the top of the table after Group Stages its Portsmouth's favourite son Horse. He's a dab hand at FPL, and so it appears he's not too shabby at this predictions lark either. He's there to be beaten, so keep those predictions coming in!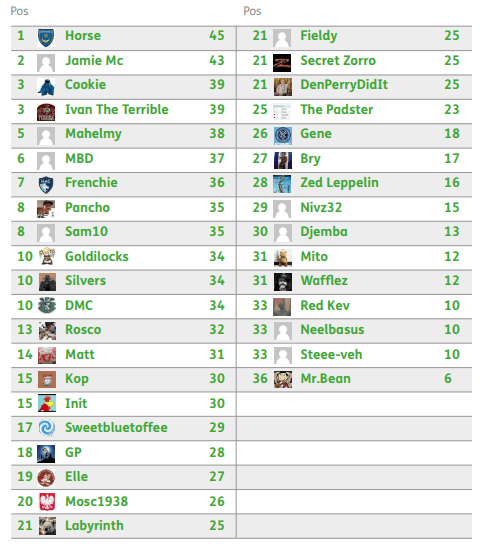 This round –
Below you will find the fixtures for the Round of 16. Cut and paste the fixtures into the comments, add your predictions at the end and tell us who you think will be the top scorer (as in player) in those fixtures. At the culmination of the Round of 16, prior to the Quarter Finals, we'll post an update to the league table as well as the following rounds fixtures.
Points scoring:
Correct Score = 3pts
Correct Result = 1pts
Top Scorer = 5pts
The rules are few; 1 entry per person, and all entries must be submitted prior to the first game of the group stages.
So just to recap all you need to do is copy and paste the fixtures below, pop your score prediction at the end of each and then tell us who you think will be the top GOAL (not points!) scorer for those fixtures. Oh and if you say 1-0, you mean 1-0 to the home team. Not either team. Capiche?
Here are the fixtures, best of luck to you all!
Saturday, June 30
France vs. Argentina, 3pm
Uruguay vs. Portugal, 7pm
Sunday, July 1
Spain vs. Russia, 3pm
Croatia vs. Denmark, 7pm
Monday, July 2
Brazil vs. Mexico, 3pm
Belgium vs. Japan, 7pm
Tuesday, July 3
Sweden vs. Switzerland 3pm
Colombia vs. England, 7pm
Thanks for reading Barry and Paul's World Cup Predictions Game 4
This article was written by Barry and Paul… aka Matt and Rusco.
Previous World Cup 2018 Articles –
Barry and Paul's World Cup Predictions Game 1
Barry and Paul's World Cup Predictions Game 2
Barry and Paul's World Cup Predictions Game 3
Group A Analysis
Group B Analysis
Group C Analysis
Group D Analysis
Group E Analysis
Group F Analysis
Group G Analysis
Group H Analysis