Barry and Paul's World Cup Predictions Game 5
Welcome to Barry and Paul's World Cup Predictions Game 5 – Welcome to Barry and Paul's World Cup Predictions Quarter Finals. Wow. The Round of 16 was everything we could have hoped for and more. When it comes to football predictions its often prudent to remain conservative, so France's 4-3 victory over Argentina will have been a disappointment in that respect, but in every other respect it was glorious. In the games that followed only Brazil could muster victory by more than a one goal margin, but there was no shortage of drama as we said goodbye to Portugal, Spain, Denmark, Mexico, Japan (just) and Switzerland. Did I forget anyone? Oh yes of course….. it's coming home.
On to the winners so far!
On to the winners!
With considerably fewer matches, it was a low scoring affair in comparison to the group stages. The Padster's 10pts was enough to see off all challengers, with DMC and Constantine tied in second with 8pts. So close guys!
Winner – The Padster – 10pts
2nd – DMC and Constantine – 8pts
At the top of the table after The Round of 16 it remains my main man from the South Coast 'Horse'. Its still tight at the top with just 3 points separating Horse and second placed Jamie Mc, this one will go to the wire!
Overall Table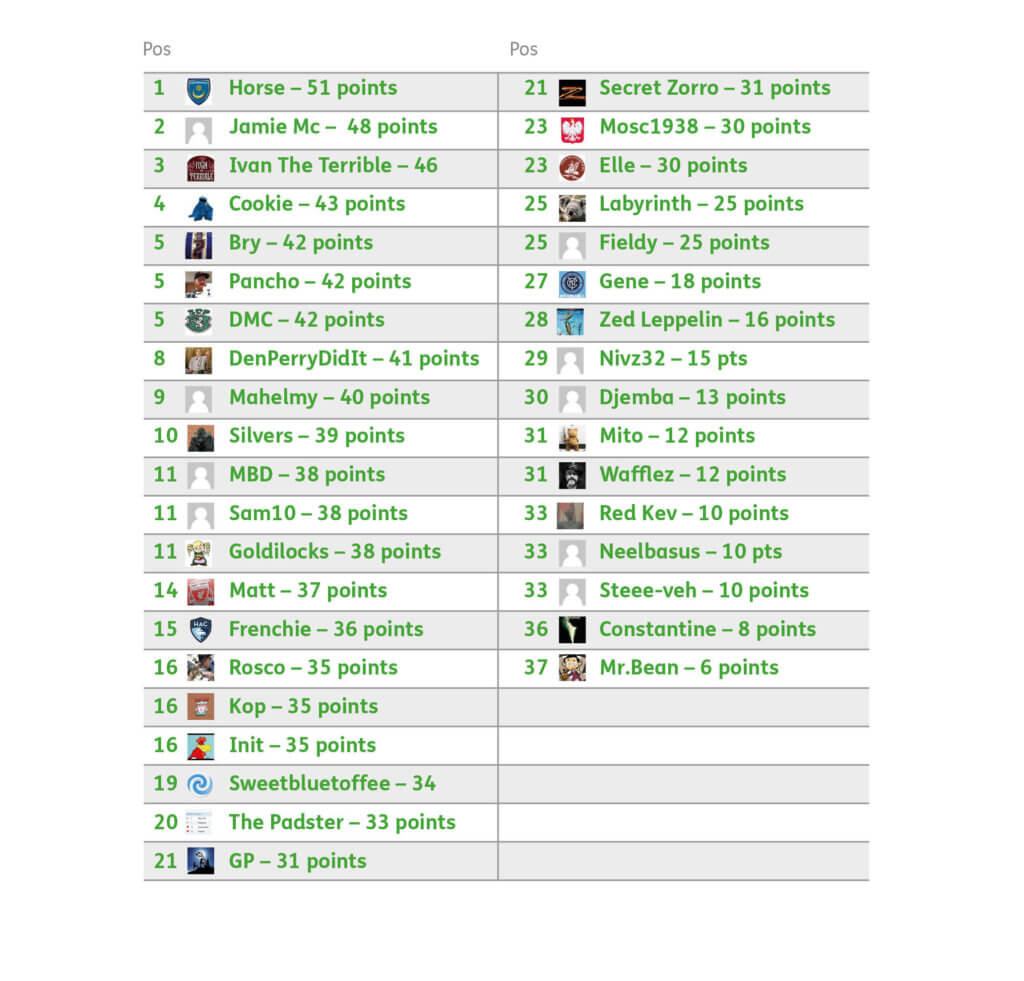 This round…
Below you will find the fixtures for the Quarter Finals. Cut and paste the fixtures into the comments, add your predictions at the end and tell us who you think will be the top scorer (as in goals scored) in those fixtures. At the culmination of the Quarter Finals, prior to the Semi Finals, we'll post an update to the league table as well as the following rounds fixtures.
Just for clarity, the result is based on what you think it will be at the end of normal or Extra Time. Penalties will not be considered. So if for example you predicted Croatia vs. Denmark as 1-1, congratulations that's 3pts. Once again remember folks, its just for fun, if we make mistakes though, let us know and we will correct those mistakes!
Points scoring:
Correct Score = 3pts
Correct Result = 1pts
Top Scorer = 5pts
The rules are few; 1 entry per person, and all entries must be submitted prior to the first game of the Quarter Finals.
Here are the fixtures, best of luck to you all!
Friday, July 6th
Uruguay vs. France, 3pm
Brazil vs. Belgium, 7pm
Saturday, July 7th
Sweden Vs. England, 3pm
Russia vs. Croatia, 7pm
Thanks for reading Barry and Paul's World Cup Predictions Game 5
This article was written by Barry and Paul… aka Matt and Rusco.
Previous World Cup 2018 Articles –
Barry and Paul's World Cup Predictions Game 1
Barry and Paul's World Cup Predictions Game 2
Barry and Paul's World Cup Predictions Game 3
Barry and Paul's World Cup Predictions Game 4
Group A Analysis
Group B Analysis
Group C Analysis
Group D Analysis
Group E Analysis
Group F Analysis
Group G Analysis
Group H Analysis