Barry and Paul's World Cup Predictions Game 6 (semis)
Welcome to Barry and Paul's World Cup Predictions Semi-finals. We're into the final week of what has been a memorable World Cup on so many levels.
Day one of the Quarter-finals began with France dispatching a Uruguay side weakened by the loss of Edison Cavani. You know when you replace a PSG forward with some bloke who used to play for Middlesbrough that you're in trouble. Later that day we also said goodbye to Brazil, Neymar described it as 'the saddest moment of his career', diddums.
England are in a World Cup Semi-final! Wowsers, like many I did not see this just a few short weeks ago, but a comfortable 2-0 win over Sweden on day two of the Quarter-finals and here we are. England's opponents in the World Cup Semi-final (I have to keep saying it!) will be Croatia after another dramatic penalty shoot-out that saw the hosts Russia leave the competition. Perhaps it really is coming home…
On to the winners!
It was another a low scoring round given the limited fixtures. Mosc1938 showed the young folk (and the middle aged ones too) how to play it; 7pts enough to take top-spot, well played sir. Second place was tied; Constantine, Padster and Pancho all finishing on 5 points, better luck next time guys!
Winner – Mosc1938 – 7pts
2nd – Constantine, Padster and Pancho – 5pts
At the top of the table after The Quarter-finals its still all about Horse, there's not much in it though, just 3pts sit between him and second placed Jamie Mc and Ivan The Terrible. Can either one make a dramatic final push for the title? We shall see.
Overall Table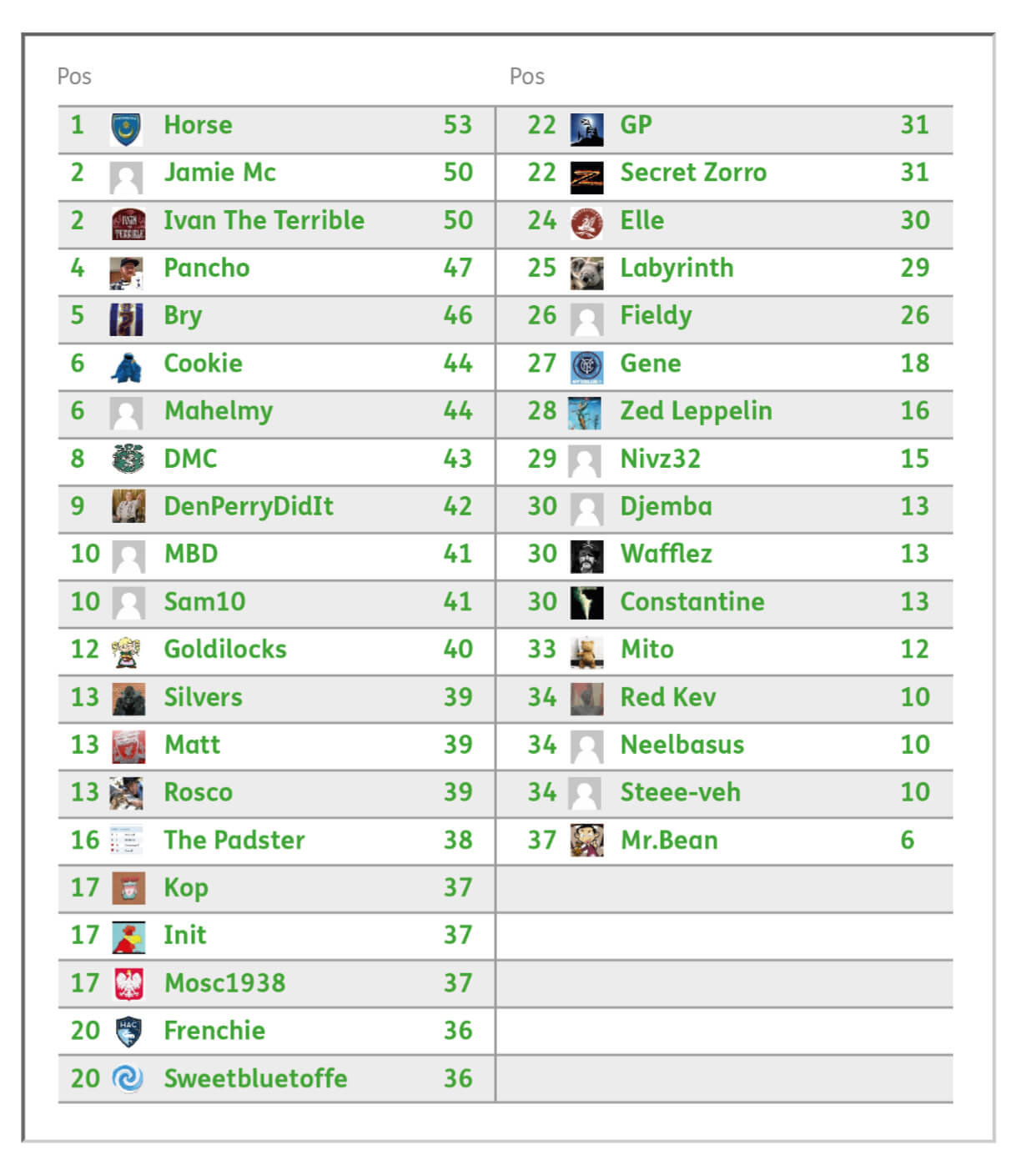 This round…
Below you will find the fixtures for the Semi-finals. Cut and paste the fixtures into the comments, add your predictions at the end and tell us who you think will be the top scorer (as in player) in those fixtures. At the culmination of the Semi-finals, prior to the World Cup Final, we'll post an update to the league table (which you'll find below) as well as the following round's fixtures.
Just for clarity, the result is based on what you think it will be at the end of normal time or extra time if it goes that far. Penalties will not be considered. So if for example you predicted Croatia vs Croatia as 1-1, congratulations that's 3pts. Once again remember folks, its just for fun, if we make mistakes though, let us know and we will correct those mistakes!
Points scoring: Correct Score = 3pts Correct Result = 1pts Top Scorer = 5pts
The rules are few; 1 entry per person, and all entries must be submitted prior to the first game of the Semi Finals.
So just to recap all you need to do is copy and paste the fixtures below, pop your score prediction at the end of each and then tell us who you think will be the top GOAL (not points!) scorer for those fixtures. Oh and if you say 1-0, you mean 1-0 to the first named team. Not either team. Capiche?
Here are the fixtures, best of luck to you all!
Tuesday, July 10th France vs. Belgium, 7pm
Wednesday, July 11th Croatia vs. England, 7pm
Thanks for reading Barry and Paul's World Cup Predictions Game 6
This article was written by Barry and Paul… aka Matt and Rusco.
Previous World Cup 2018 Articles –
Barry and Paul's World Cup Predictions Game 1
Barry and Paul's World Cup Predictions Game 2
Barry and Paul's World Cup Predictions Game 3
Barry and Paul's World Cup Predictions Game 4
Barry and Paul's World Cup Predictions Game 5
Group A Analysis
Group B Analysis
Group C Analysis
Group D Analysis
Group E Analysis
Group F Analysis
Group G Analysis
Group H Analysis